I have a new favorite food. Kabocha Squash (or it's sometimes called Buttercup Squash) is so yummy. It's like a cross between a sweet potato and a pumpkin. It's really starchy and so
autumn
tasting and just, yum.
You can see one of the little guys in the corner of this picture. They're kind of like a dark green pumpkin.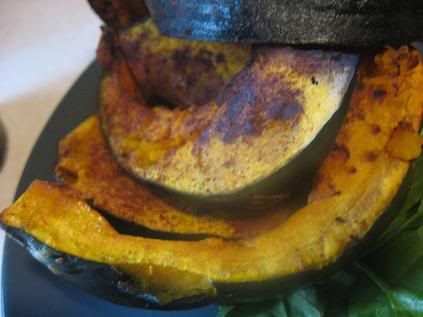 Wash the outside of the squash and kind of whittle down any little bumps that might be holding dirt, but don't peel it before you cook it. The peel gets soft during roasting and you can eat it, and get all the benefits of the deep green color!
I like to sprinkle mine with cinnamon (or pumpkin pie spice) and roast it on a lightly oiled piece of foil. When I make this squash, I eat like... a pound of it a day. It's even so yummy out of the fridge, after it's been roasted. Luckily, it only has about 30 calorie per 3/4 cup!
What are you favorite fall foods?