I like having the day all to myself, today. It's supposed to be in the high 30's outside, so I'm hoping to get out to walk. It's only 28 degrees, so far. Go little, watery sun, go! It's been sunny for the past two days and the 2ft of snow on the ground has developed an icy crust, full of mini-diamonds. If you look closely enough, you feel like you're inside of a christmas display with fake snow.
I like...
...that kurt did the laundry I was planning to start my day with, while I was sleeping last night.
...that Scouty talks and talks and talks all day long. She's the most interesting and funny person I've ever met.
...
Feather and Justin and Eliot.
We went to Eliot's 3rd b-day party this weekend and it was nice. They're just really nice people.
(Lately, at little Birthday Parties, there's usually so much worry over making sure proper thank you's are said and that every gift is written down so that Thank You cards can be sent. Social manners like that, especially where kids are concerned, make me feel clumsy and uncomfortable, and I end up not being able to control the volume of my voice and wrestling over myself not to say the word pee in front of Grandmother, or something. I'm not full of very many graces.)
...getting kid's book from the library and reading them in bed with my little pea face for hours and hours at a time. (Even when she can't hold still for more than 2 seconds and constantly knees me in the ribs.) I like all the little books. I like hearing their stories and seeing their varied illustrations. I like how Scouty responds to the Grumpy Little Owl by saying, "That wasn't very nice, was it?" and how she's afraid of all bears, even nice ones who are looking for their stuffed bunnies.
...Brussel's Sprouts.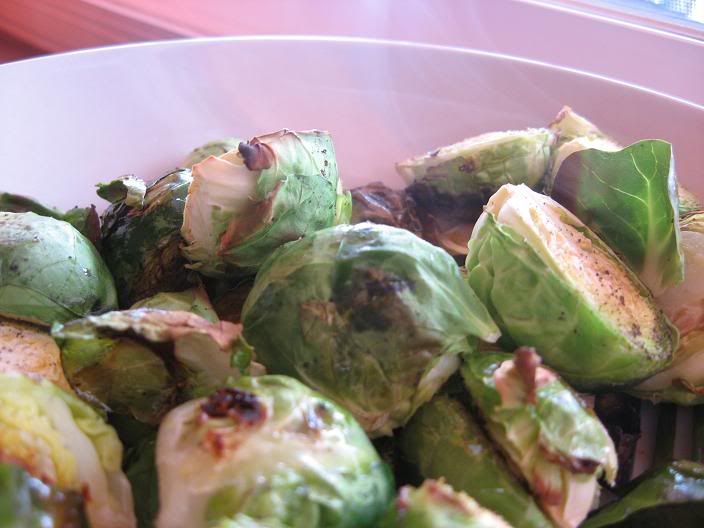 ...and real food, in general. I've developed a weirdness with white flour and chemicals. I'll eat something like pizza every once in a while and I think that I can actually FEEL how bad it was for me, even if it tasted yummy. I ate pizza this weekend and other candy/cakey things and while they were yummy and fun, I can't wait to get back to eating ridiculous amounts of green things.
...these chubby little hands: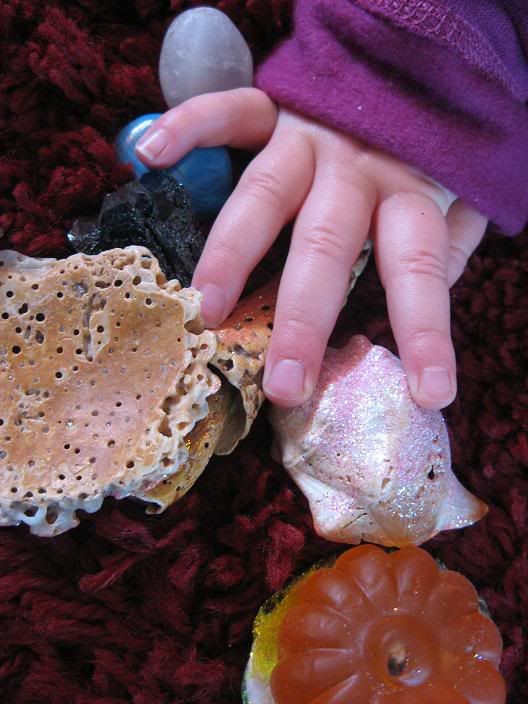 ...that this dance party took place a few days ago: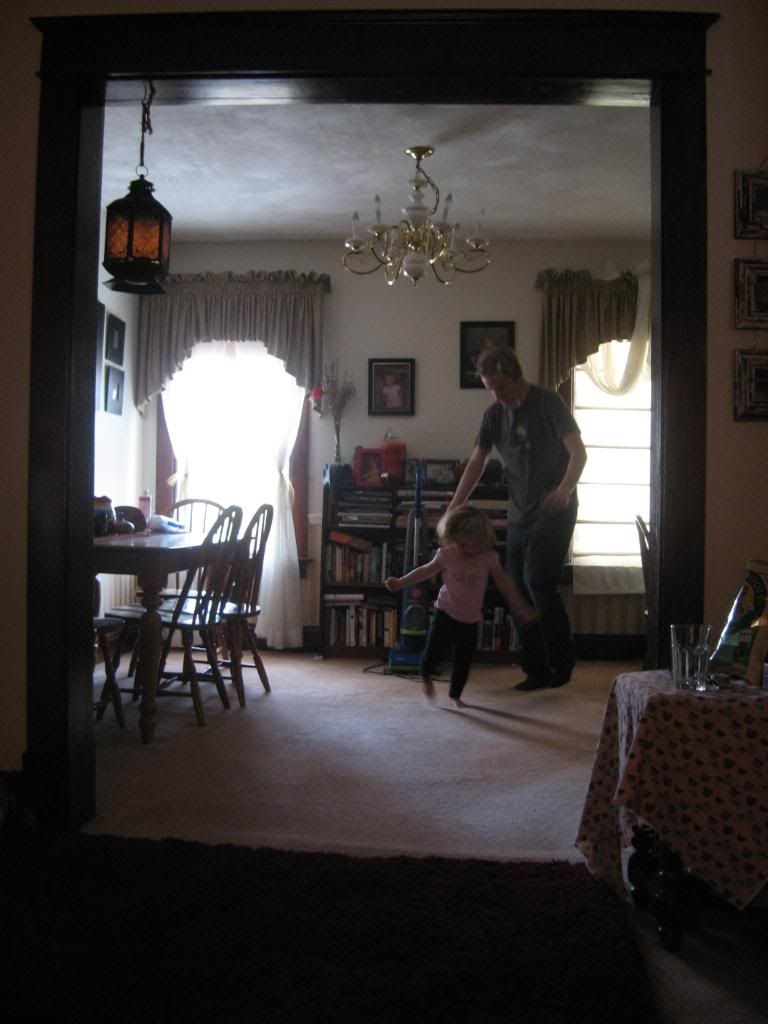 ...that we've decided to have a private ceremony somewhere outside with people who won't complain about traveling in the city and standing for too long in the sunlight. (I'm pulling for an overlook on top of Mt. Washington.) And then we'll have a public reception with everybody at the venue we reserved. Plus, we'll have a natural backdrop for the wedding and won't have to decorate that aspect of the day and the pictures will be beautifully lit by accident.
This month has been so trying, hasn't it? I'm sure I feel this way every year, but February is almost unsurvivable for me. I have been having vivid and obscene daydreams about warmth and sunlight and fresh air. Kurt and I have been talking about retiring to somewhere in The South. Savannah or Charleston. We keep to ourselves enough that the politics won't bother us. We just want humidity and kudzu and slow drinks in the unbearable heat. Anyway, I can't focus anymore on the things I DON'T like about being in the middle of a winter. Being poor matters too much when you can't spend free afternoons in the grass with a bowl of berries.