Yesterday, Scouty and I went to story time at Brentwood Library. All day long I had been feeling a weird mixture of unattached bliss verging on about to burst into tears sadness. Does that ever happen to you? I think it's mostly a pregnancy thing, but it happens sometimes when I'm not pregnant, too. I just get weird little bursts of feeling, and I'm sure they're good, like... maybe for a second, I feel so happy I could just die, but then, I also think I'm going to cry, so maybe I'm really actually sad, but it's not really sadness. It's a sprinkling of dust up my spine and a little shiver and it only comes for a second and then disappears. Anyway, I had been feeling weird like that all day.
At story time, Ms. Dolores played a song about riding in an airplane and the kids were fly-fly-flying all around the room. I watched Scouty with her little arms out to her sides and a HUGE smile on her face, big, funny, crooked glorious teeth and cheeks for days. Then, they landed their planes and danced around to the music. She looked up at the teacher and she grabbed Scouty's hand and spun her around. Scouty put both of her little chubby hands up to her mouth and kind of scrunched down and laughed because being spun by Ms. Dolores made her so happy and kind of embarrassed her. Then she jumped into the air and my heart honestly broke, right there in the middle of a noisy room filled with squiggling toddlers and their bored parents.
I felt so happy for Baby B, how big and smart and happy she is, and how she was having SO much fun being there and being alive and being who she is. I also got a whoosh of... I don't know what it was. Reflectiveness? Pride? I don't know, but it was the happiest and saddest feeling ever, and, "oh no!" I thought and my lungs filled with water and I started crying, sitting on the floor in the middle of the crowd of dancing, laughing toddlers! I couldn't help it and there wasn't anything to stop it from continuing. Scouty ran up to me and climbed into my lap to get ready for the next story and I squeezed myself with all my might thinking, "What are you doing? Stop this." In the end, it took five whole minutes of red faced tear blinking and avoiding eye contact, trying not to think about how cute and perfect my daughter is, before I finally got it together.
I thought about the Olympics and how stupid they are for making me miss good shows on tv. I thought about diapers I might like to buy. I thought about things I need to sew and bored the feeling right out of me, but it was hard.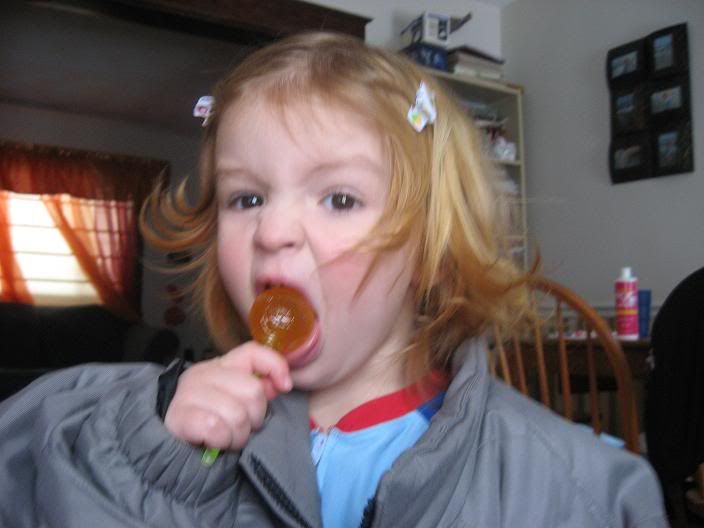 How am I supposed to not love her so much that it makes me cry and embarrass myself in public?
In Louise-ier news,
The baby has been moving around all day and night inside of me.
I even got a swift jab to the cervix last night that made me jump and say, "ooh!"
I have been sleeping perfectly, comfortably, like I'm not even a big round ball of a woman with a squirming, tiny person inside of me.
I have also been eating everything in sight and cursing my husband for leaving chocolate cupcakes on the kitchen table. I actually fight with them, the cupcakes, I mean. All day long, yesterday, I kept telling them out loud, "You ruin people's lives and give people diabetes! How disgusting you are!"
But then I caved in the evening and Kurt
chinged
his cupcake up against mine like they were glasses of champagne and we ate them.