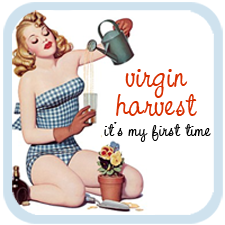 I'm so excited about trying to grow a garden this year. I was too pregnant last year, so I read some gardening books, and after having a baby and healing, I spent this fall preparing the ground. Hopefully I did everything right. Is there really totally a "right"? I double dug the ground and weeded and laid down mulch, so now I just have to wait for winter to be over.
Why don't you grow something this year, too?
Herbs in a flower pot or a tomato plant or a garden full of food? Head over to
Dig This Chick
and pledge to be a Virgin Harvester, too! (Even if you don't feel like gardening, her blog is amazing.)
All I really want out of this season is to grow some Kale and Tomatoes. And I want some wildflowers in front of the house. (Oh gosh, wouldn't an actual tomato be out of control delicious right now?) I hear that Kale is fairly easy to grow, or at least hard to kill and it's my favorite food, I think... so cross your fingers for me!
Do you have any gardening tips to pass on to a novice?
I'm crossing my fingers that I'll get a composting bin for Valentine's Day! haha. No really.