I've started to see the crisscrossing pattern of tangled branches when I close my eyes from too much work. So, while Kurt and the girls got ready and went to my (super big boy) nephew's party at Chuck E Cheese, I went out for lunch with my sister for her birthday.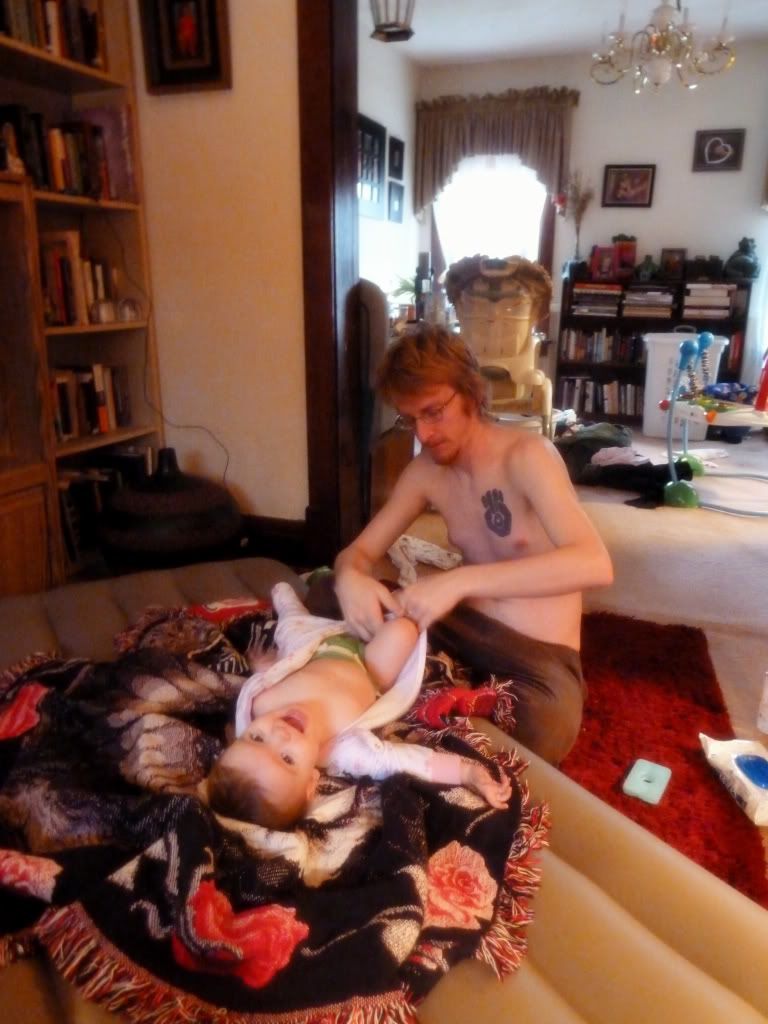 Getting ready!
The big girl with her properly cooked dippy eggs, made by daddy.
She told Kurt that I didn't make them right. And then she whispered, "It's good that I said that while mom was upstairs."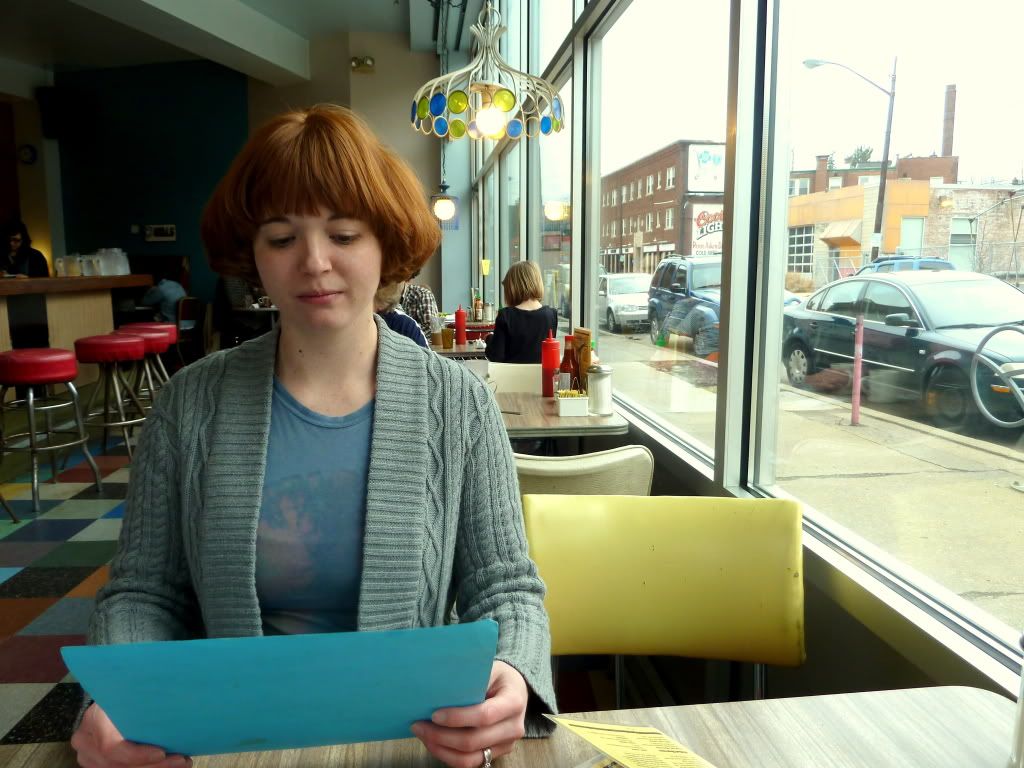 Audra and I went to
Quiet Storm
. It's awesome. I'm used to scouring a menu for one or two meatless options. Today, I could have anything.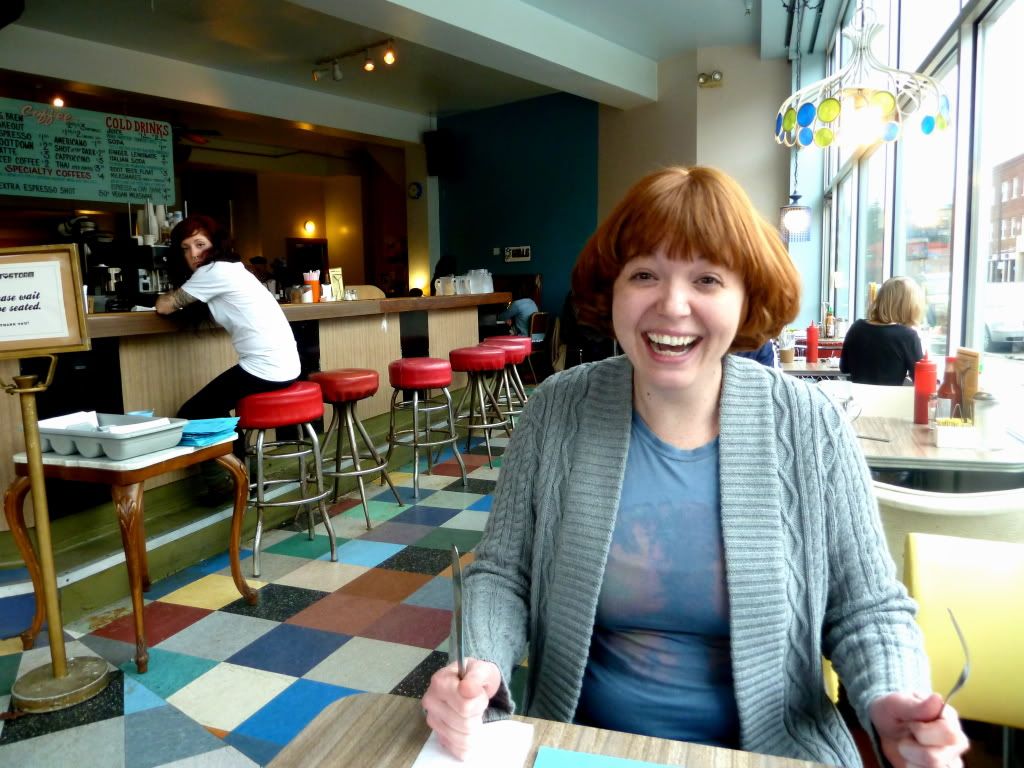 We purposefully didn't eat all day so that we could be pigs.
And had burritos that tasted like Thanksgiving dinner.
It's interesting being with my sister because so much comes of out of us that usually just stays still and inside. Like how our youngest brother is in love for the first time, and how this worries our mother.
Or how there used to be a puddle at the bottom of the basement stairs that you had to jump over every time you wanted to do laundry.
The Christmas Eve that an ornament fell off of the tree in the other room while we were praying for the baby Jesus. How the devil was always trying to interrupt our family's righteousness. How we all knew, really, that the devil wasn't real. How the Christmas lights flickered off and on, making shadow shapes in the hallway. How Silent Night was the best carol because it was kind of scary and haunted, like Christmas was, if you really thought about it.
We used to steal grapes off of the vine from our neighbor's yard. Years later, while visiting my parents, I confessed this crime to the neighbor lady while she cooed over my daughter, and expected her laugh and dismiss our crime. Instead, she went hard and her eyes were cold over the mention of the grapes, and I felt like I was ten years old again with stained fingertips.
There was a sign in the church kitchen with a scripture about how, if you stole food, you were dining with the dead.
"Stolen water is sweet; And bread eaten in secret is pleasant. But he does not know that the dead are there, That her guests are in the depths of Sheol."
We stole cookies, anyway.. the generic white Oreos that seemed to always be stale. It was thrilling that maybe dead girls from another dimension were eating soggy white sandwich creams with us. They were exciting and delicious.
I stepped on a goldfish, once. One of the big, red fat ones. They swam in a creek where we played with our brothers. I slipped off my dollar store flip flops and plunged into the water, only to feel something squirming under my bare sole, something getting buried into the silt by my weight. I jumped up with barely a gasp and saw him swimming away, blood trailing from his gills. I felt so terrible that I demanded that we buy some goldfish for the tiny pond in our back yard and I would take care of them and make up for the one I'd murdered. Only, when we were transplanting them, one of them swam under the cold water from the garden hose and died immediately. I stomped into the house, slamming the screen door and bawled in my room.
My sister has memories like I do. Of the fact that our father put down our dog in the woods with a hand gun. He was sick and ready to go, and that was just what people did. They didn't have money or care to have someone else do it. They took care of these kinds of things, themselves.
My sister and her family still live in the town
where we grew up.
I wonder about how she manages in that old place. It's too full of things we've already done, for me. I feel more comfortable being a city mama, navigating business and color and sound, just to get by. I wonder though, if isn't brave of her to go back there. I wonder if all of my adventures only lead me away from the things that come out of us, when we talk over lunch. Maybe she's smart for immersing herself in our memories, and triumphing anyway, and maybe I'm smart for running away.
PS. Happy Birthday, Audra.