Housekeeping is not my strong suit.
It's not even a suit I consider MY suit at all.
We're working on it. Not because I aspire to be a tidy homemaker, but because I kind of feel like I start to panic a little bit when I watch those "Hoarders" shows. Like, I'll be staring at the TV, and then my eyes will scan the living and dining rooms, and I'll think, "Uh oh."
(Really, if you know me, you'll know it isn't THAT bad. Except in our bedroom. There are 4 garbage bags full of clothes that I'm meaning to donate, falling over in the corner and a pile of clean laundry that never gets folded. We just dig through it like ferreting rodents, looking for any 2 socks. They don't even have to match, just as long as they fit. Nobody ever sees our bedroom. Or our socks.)
Okay, honestly, though, we're not filthy, but we do have
way too much stuff
.
I had an enlightened moment recently where I realized that I only have so much space. I mean, really. It doesn't matter that I can stack storage containers on top of storage containers. The whole deal is that, we have just this much space in which to live our lives. Do I really want an
entire room
of our precious space to be taken up by bags of old clothes and piles of mismatched laundry? Am I really willing to sacrifice 4 square feet of our living room for a giant vase that I don't even really like and doesn't even actually hold any flowers? It's crazy.
There are 4 of us in a very small house.
I have made a vow to respect us enough, as a family, to respect the space that we're given. There's only so much of it to go around and our home isn't going to be getting any bigger. How is it that I've been okay with wasting
any
of it for so long, let alone so much of it?
So, I have been going nuts giving things away and freecycling and regular old fashioned
re
cycling, as well as tossing out revealingly huge quantities of
stuff
that I've been dragging around with me since I was like... in high school.
We're endeavoring to be one of those households where every thing we own must be either immediately useful or important or beautiful.
Enter exhibit Perfect Lamp.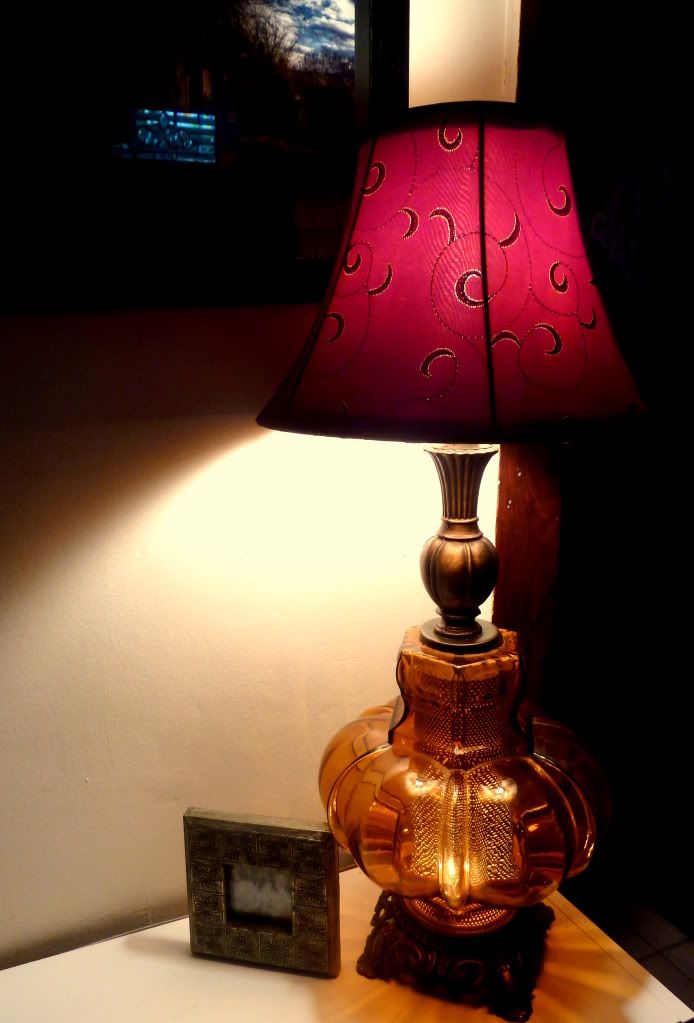 Antique, orange glass. The base lights up! 5 bucks at Dormont Goodwill. Totally useful, check. Totally beautiful, at least to me.
So, we have a big list of things we want to improve around here. In the spirit of
making myself into the thing I want to be
, I've also decided to
make my home into the thing I want it to be.
There's no reason I should be putting myself through the torture of too many toys and not enough space, ugly wallpaper, clothes everywhere, no storage, overgrown landscaping, mismatched socks and feeling like I'm turning into one of those hoarders. There's only so much space we can actually call home. The world is big, but we own (or rent) so very little of it. Our space can be anything we want it to be. (Within the confines of money, I suppose and of the amount of energy a person is able to muster up with a 3 year old and a 8 month old. But whatever. We have time.)
Here's our list:

Fix overhead light and ceiling fan in Scouty's room
Tabletop lamp for bookshelf
Window box for basil
Large Garden Containers
Fix or buy a new lawnmower before the world thaws
Professional photos of Louisey
Remove wallpaper in kitchen
Remove wallpaper in bathroom
Remove border in our bedroom
Remove wallpaper in Louisey's room (Which actually depicts cats wearing cowboy hats. I'm not kidding. The people who owned this house before us were total psychopaths, apparently.)
Paint kitchen
Paint bathroom
Paint our bedroom
Paint Louise's room
Wooden edging for wildflower bed in front of house
Hammock Stand
Colorful area rug for dining room
Garden fencing for vegetable patch in the back yard
Stained glass sconce for upstairs hallway
New runner rug for spring. (One that isn't all salty and stained from winter.)
Start garden plants indoors

What do you want your home to be?
Make a plan and get back to me. If we'd rather barf than be considered good housekeepers, let's be space respecters, at least. We only get to keep so much, after all.