I bought some Christmas presents last night, and then came home and freaked out about money. I snapped at Kurt and told him that he had to either agree to freak out with me, or come up with a solution. He was just sitting there, watching football and looking at me with big blue eyes.
I went to bed early because I was being an asshole and there wasn't a cure for it.
There's something I need to remember, though.
When Scouty was born, we didn't have ANYTHING. We lived in a tiny apartment in a tiny place on the outskirts of the town where I was finishing college. Kurt drove almost two hours to get to work, and two hours home. He made WAY LESS money than he does now.
When I was this mom, I didn't have anything.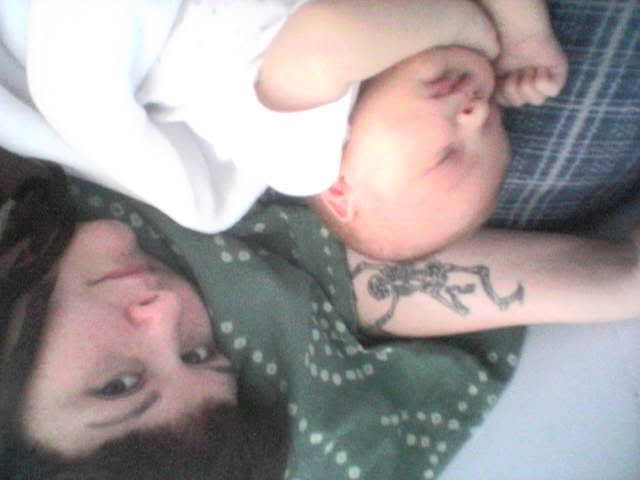 I didn't know what it was like to have anything. For our first Christmas as a family of three, Scouty didn't get presents from us. She was too small to know the difference. I think I bought her a book about snowmen.
My baby didn't even own shoes until she was walking. That wasn't something to shake my head at. It was just her childhood and her little toes knew the dirt and that was all I knew about supporting a family.
We have a lot, now. We're homeowners and have two cars and live in a nice enough neighborhood in the city. We have memberships to museums and play places and the gym. We have bikes and scooters and attend preschool. We shop at health food stores and go on hayrides and have a hammock in the back yard. There is a decorative wreath on our door. We struggle to make it to the end of the month, sometimes. Everything is fine.
I have hangups about being poor. I was born in a farm house and spent my early childhood in a trailer park. I've seen how people who have nothing desperately need a god. I've seen how women with nothing need to keep their eyes closed. Men with nothing take ownership of things that don't belong to them. I've seen a lot.
Sometimes it's hard for me to understand that we don't belong to those things anymore. I'm afraid of the cracked sidewalks and wooden alters in my memory. I'm afraid that the offering plate will land in my lap. If I'm not careful, the seams I've mended might split.
It's true that I'll be that girl, my pants rolled up around my knees, dirt under my nails... I'll be her forever. I'll always be from a small town hidden in the brush. I'll always be one of the little children Jesus loves, but I don't have to be afraid of those things anymore.
I didn't choose those things.
If we have to be careful with money for a few weeks so that I can stuff our closet with hidden Christmas presents, it will be okay. There will be enough food. My daughter has a dentist appointment this week. We'll visit daddy at lunch time. My sister will invite us to her house for Thanksgiving. Maybe Louise will wear a dress, they haven't seen her in so long. She walks now.
We don't belong to those things.
-