I was sitting in one of the comfortable chairs in the window room at the library working on a story about teenagers when a friend sent me this article.
The Love of My Life
by Cheryl Strayed.
Do you know the feeling where you read something that is so awful and brilliant and FOR REAL, that it makes you feel like you'll never be able to love anything properly again? Because all the love you had in your heart just got poured into reading this beautiful piece of writing and all at once, you want to throw your hands up in the air and give up.
That feeling always goes away and I'm able to love again. But for a minute, I was a goner.
Being a person is hard.
I'm not even sure what I want, as a creature.
I want to be happy, but sometimes I'm not sure that's possible. Are people happy?
Maybe, by the time we're grown, it's too late for happiness because we've done the things that will make us into people. We've woken up on all our Christmas mornings, we've been loved by our parents or we haven't. We've walked in on homeless men washing their private parts in the sink. We've known people who wanted to hurt us. We couldn't depend on ourselves when we needed to be dependable. Just when we were nailing down all of our ideas about what we were, we were also small and weak and scared. We were young when we needed to be old, and now it's too late to say, "I just want to be happy."
I want to love my life. Or maybe I just want to like it. Maybe I even want to be allowed to hate parts of it. I want to be allowed to not be ashamed of the parts I hate.
I don't know if that's right.
Beauty is a thing, and we're all told that beauty isn't what we think it is. It isn't what we see. What happens when we see inside somebody? They're awful and they'll break your heart, but they're full of beauty.
Some of them are ugly, through and through, no matter how they look on the outside. They're like lightning bugs scraped over a rock, a tiny streak of brightness and the rest is all gore. The thing about happiness is that we don't learn not to let those ugly people near us until they've already been inside and wiped their bloody hands all over the walls of our lungs and severed the tie on the underside of our tongues. Some people never learn to lock ugly out. Some people never learn anything and they die and they were animals.
Just like seagulls mating on the wet sand. They were animals.
Mostly, though, we grow up and our lives hold still and we have babies and we learn to accept ourselves, in a way. We buy houses and pick our friends and have ways we like to pass the time. Some of us write stories and sometimes people actually see us. There is nothing wrong.
But, we've already lived through our youth and in our youth, everything was wrong. We'll never get away from it, even though we have. We'll never be anybody other than a little girl picking a scab from her knee and shifting uncomfortably against the hardness of a church pew. We'll never be able to undo how we lost our virginity and it wasn't like we thought. How afterwards, the boy said, "What did you think?" and we said, "Think of what?" and he got mad. We'll never be able to pluck these things from the meat of us. We'll never be able to dig out the earring we found in the sheets. We'll never be able to forget how we weren't loved and how we couldn't even protect ourselves.
This is why some people believe we should tell our stories backwards. This is why some people never learn anything and then they die.
Maybe I want to be happy, but I'll honor myself by knowing that happiness isn't really a thing. Not like beauty and love. So, if I don't want to be happy, what do I want?
I want to love things so much that I'm sure I'll never love again, and then I want to go home and love my kids and my husband. I want to protect myself from animals on the beach. I want to remember that things could have gotten worse, but they didn't.
Things got better.
If I'm too late for happiness, at least I can say that things got better.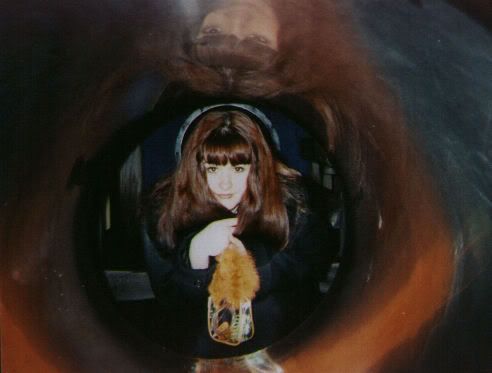 Me, as a teenager. Taken through a playground tunnel.
-