Kurt is waiting to hear about a new job today. I feel like I won't survive. Every time my phone buzzes, I feel like I'm going to puke. I jump and knock over the baby scrambling to answer it, and then it will just be a reminder I set to change out the laundry.
I want him to get this job, but not because of money or security or what it means to me and our finances. I just want him to feel happy.
Do you know what he does for our family? Can I tell you?
He's the kindness that balances out my temper and explosions. He dresses up in a suit when we go out for dinner because he thinks I deserve to be seen with a man in a tie. He bathes the girls every night, reads their bedtime stories and sings them to sleep. When he gets home from work, I hand him the baby, bark at him about what to cook for dinner and I leave to workout or get my work done. He takes the girls every Sunday, and leaves me in bed. They don't even come home until bedtime. He does the dishes and the laundry. He does everything right.
I am terrible. I break down and refuse to do things. I get mad. I get bossy. I get frustrated. I call him at work and tell him that I can't possibly go on this way; the house is too messy, the baby is too demanding and I am exhausted. I cry until I'm finished crying. I am stormy. I am distracted. I don't always remember to recognize him and thank him for being everything we need to be a family.
Because he is what holds (me) us together. He saves me. He deserves something really good.
So, a car drives by outside approximately every 30 seconds, and every time I hear the hiss of tires on the wet pavement, I'm sure it's my phone buzzing and my heart stalls and sputters. I dive across the room, stepping on a toy airplane and swearing, hopping on one foot.
It's too much. Knowing that he'll feel disappointed and like a failure, if this doesn't come through. Knowing that he'll be sad, but he won't say so. It's making me crazy.
When we were new parents, we lived in a little apartment twenty minutes outside of a college town. I was afraid to go outside. There wasn't a grocery store. We were on an island and we loved one another, even when there wasn't enough money for food.
Sometimes there still isn't enough money, but we're all grown up, now. We live in the city. We're going on our first vacation, this spring. Our babies walk and talk and I'm not afraid to break them, anymore. Louisey is learning how to jump and Scouty is reading. I'm still washing diapers and writing with a child on my shoulder. We've rattled until our wheels fell off. We've been through a lifetime of lean winters. Mostly, we've been a family that is absolutely brimming with love and happiness. There's not enough money for t-ball. We love our life a lot.
Daddy is the only reason we didn't fall apart a long time ago. He deserves to be really happy and to feel really proud and so, I won't be able to eat until he calls.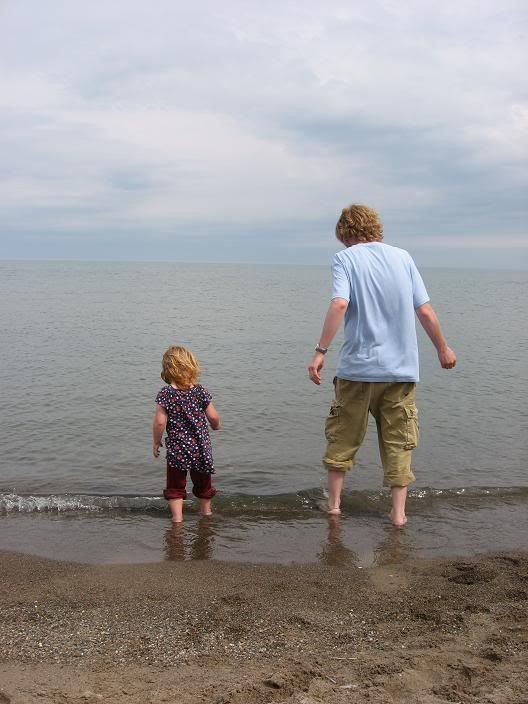 We love you, Daddy.












-