Dear Girls,
I remember a lot about what it was like to not be a mom. I was lonely and frozen.
When I was a kid, I felt like the world was really small, and that it wasn't a good place. I thought that there were people who loved Jesus and they would go to heaven, and then there were other people who were doomed to be sad and broken. They were doomed to look for happiness everywhere, but never find it. I knew about these sad people because grown ups told me about them at church, how souls who didn't accept Jesus as their lord and savior would never really be full. No matter what they did, or how much they had, there would always be something missing.
I thought that something must be true happiness. I also knew about these sad people because I was one of them.
I did a lot of crazy things as a teenager and then a young adult. I fought with boys, I wore too much eyeliner and boots from the army surplus store. I stole from stores and sold my blood and lived in an alleyway behind a church in an old part of the city. I let boys use me and hurt me. I put a needle in my arm. I hurt myself.
I didn't matter where I went or who I was pretending to be, I was still one of those lost souls. The ones who would travel the tiny world and never find what they needed. It didn't matter that I was naked across a bare mattress with scabs on my wrists and the shadow of a monster over my skin... I was still a little girl who never quite felt the joy, joy, joy, joy down in my heart. There was no god but I wanted Him.
When I became a mommy, I didn't find Jesus. I found something better. I found out that I was right. There was no God, the world was a tiny place, we were all the same, and everything was beautiful and exactly as it should be.
My first baby girl, you scared me. Badly. It was the kind of fright that put electricity in my veins where there had only been slow sloughing poison. I was full of sparks and tension, where I'd been melting before. I was fully alive where I'd been wavering in the half light of life and something else. Suicide, maybe. I didn't know how to not be half dead, but I learned fast.
Those days were a mess of anxiety and holiness. I didn't sleep. I couldn't eat. What would I do with you, my tiny, magnificent, only thing that mattered and had ever mattered in the history of all the world? I held you so tight, I cried so hard. I found danger everywhere. I heard you crying in the shower. The house was too small; I couldn't breathe. Every time you blinked your eyes, I fell to my knees and worshiped your beauty. Every time you yawned or god-forbid SMILED, I was filled up with the light and love of a thousand years of loneliness and turned into a beacon of rightness.
I wasn't dying anymore. It was instantaneous. You were holy water and I was emerging in a fine spray of diamonds and sputtering a psalm of thanks from my wet lips. I cried so hard. I was afraid of this love that threatened to break my bones and crack my skin. It threatened to pour out all over everything and turn the world to ash. There was no god. I was alive and you could depend on me for everything you might ever need, every second of every minute of every day of the rest of your life. There was no need for
surrendering all
. There was no need for scrambling on my face. I was your mother, and I was enough.
I was good enough.
I was enough.
I'd never been good before, because I didn't have a reason to be. Nobody expected anything out of me, little dirt girl from a trailer park who wrote in the back of her bible. She didn't have a daddy and her mama was tired and used up. She was nothing, and I'd lived like nothing. I let so many people use me and hurt me, and then I had you and it was all worth it.
I'd been waiting all my life to love you.
A scalpel in the hand of a disinterested doctor gave me Louise, little sister, tiny girl with a smile so big it blots out the sun. I was gutted again for you, my baby number two.
Tiny thing, we slept together in a hospital bed and I felt like the world was gone. Your big sister was waiting for you and my mom was with her, loving her and sitting in the front yard with a blow up pool in the sun. You were born in the summer and everybody was away on vacation. We didn't have any visitors, and I felt like we never would. You were a tiny, beautiful gem and we would stay hidden away in this silent bliss like morphine forever. Your sweet breath was a prayer in my ear. You wore a soft white hat with a crocheted flower. There was a red mark between your eyes. I could read the meaning of life there; how beautiful you were!
The first time you went to visit your Grandma and Pappy, I pressed myself against the glass of the big picture window in the living room and cried until I gagged; I missed you so. I didn't want to share you with the world.
You were so sleepy for the first few weeks of your life. People started to fuss over you. "That baby shouldn't be sleeping so much," my mom fretted. I knew you, though. You were simply taking your time coming back from the place you were before you were born. You were living out the last tendrils of death and birth and when you were ready, you were going to explode to life.
And you did.
Both of you, my girls, cried and cried for hours, sometimes. Scouty peered into your red face and said to me, "I don't love babies who cry."
Oh, my love. I told her that we must always love babies because they're small and scared the world is too bright and cold. "They are counting on us to love them all the time, ESPECIALLY when they cry." So, Scouty was sorry and she cried and I held the both of you, warm and sticky and covered in tears, wailing right up to the empty throne in heaven. We rocked together on the carpet. It was summertime and there was so much golden sunlight everywhere. I held you and I cried, too and we were a family of girls with the same blood in our veins. I was you and you were me and so I had to cry because you were crying. We loved one another so much.
That's what happened to me when I became a mother. I started bleeding somebody else's blood. I started growing things out in the yard. I taught myself how to change a tire and bandage a scraped knee. I understood right and wrong. I became something that nobody would push around, not ever again. I had girls to raise and I'd be damned if they saw me walking around in the world like I didn't have power over the things that happened to me. My babies scared me so badly, I had no choice but to become the bravest woman who has ever lived, and I did it all on my own. You gave me the reason, girls, but
I did it
. For you.
I'd do anything for you.
Mum-mum.
New mommy and Scouty
Scouty, the baby of the world.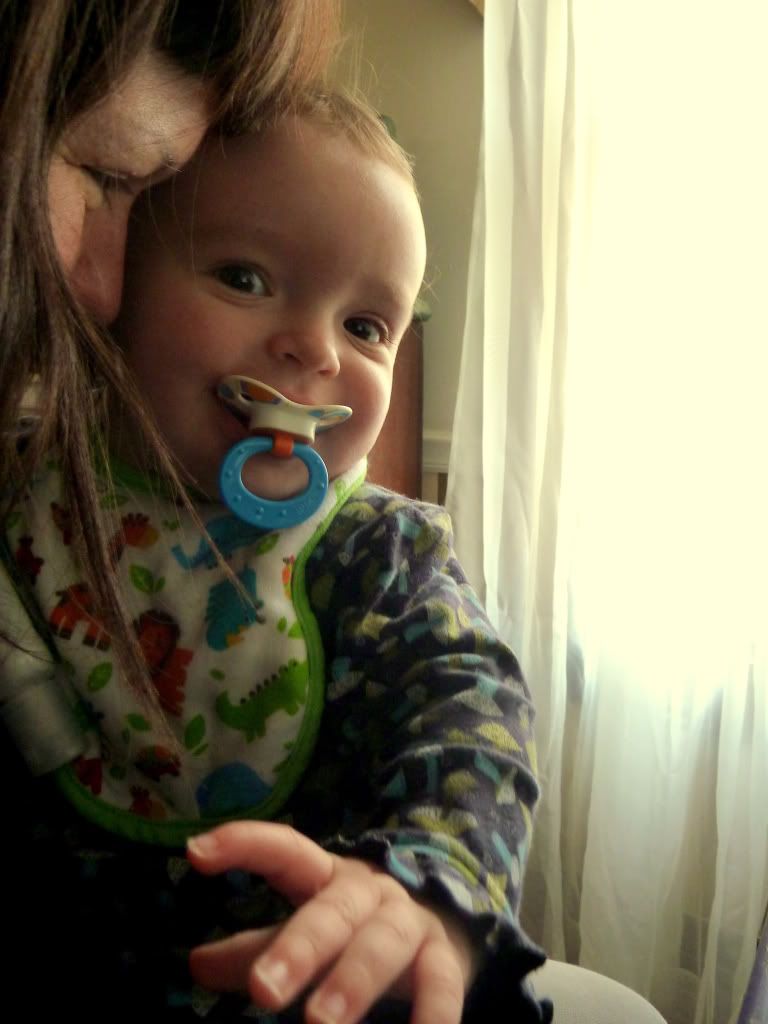 Baby Girl who melted the stone at the center of the world. Louise.
Louise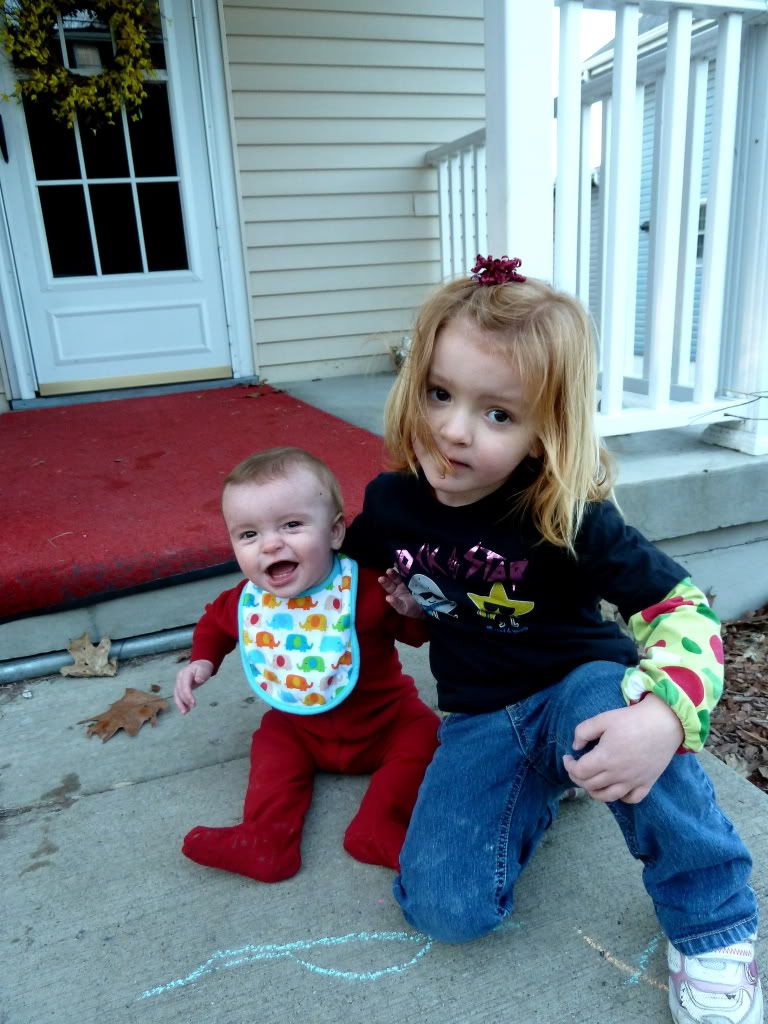 I love you.